Salem Hello
A homemade sandwich loaf is always better, I make at least one sandwich loaf almost every week. Ideal for sandwiches, sandwiches and my children like it and also for aperitifs on sunny days.
After cooking my beets for my salad, I mixed a little red beet with the cooking water and I made this two-tone bread.
The crumb is extremely soft, and you don't feel anything in terms of taste. Nice we only enjoy the beetroot without altering the taste of the bread.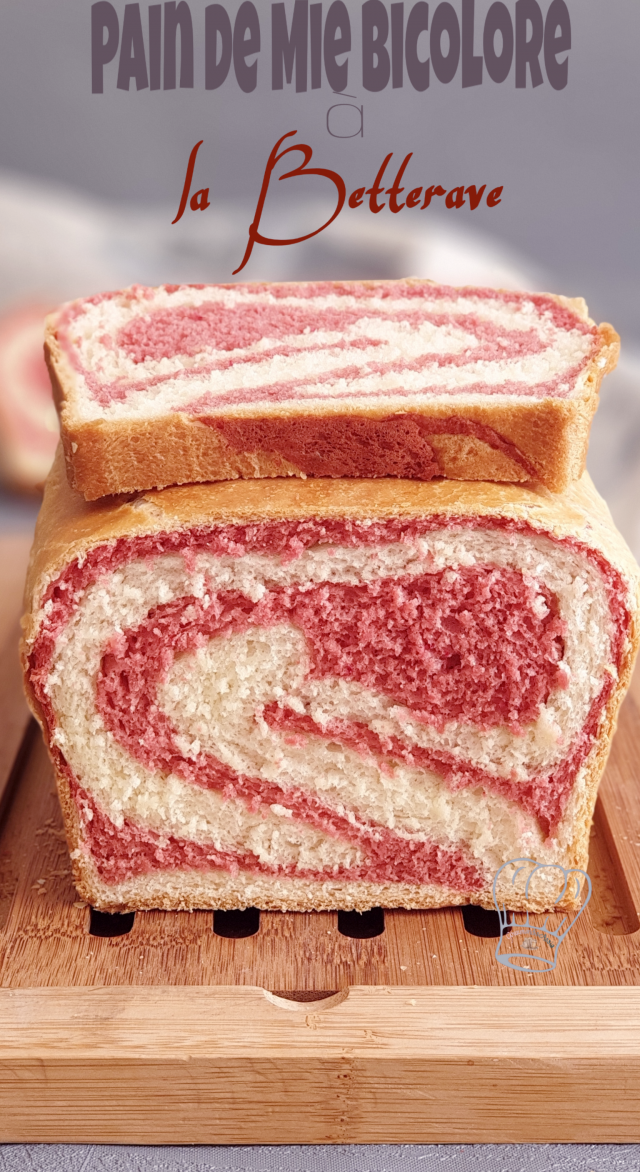 Marbled Sliced ​​Bread
You can prepare it in a closed special sandwich loaf tin, it will give a nice visual. Personally, I forgot that I have this mold and I had the bad idea of ​​putting another plate on top when cooking. So I crushed the top a bit but in terms of texture, it's just amazing.
To make the beetroot paste, I mixed 100g of cooked beetroot with 12cl of water. I used the quoted amount and the rest I froze in ice cube trays.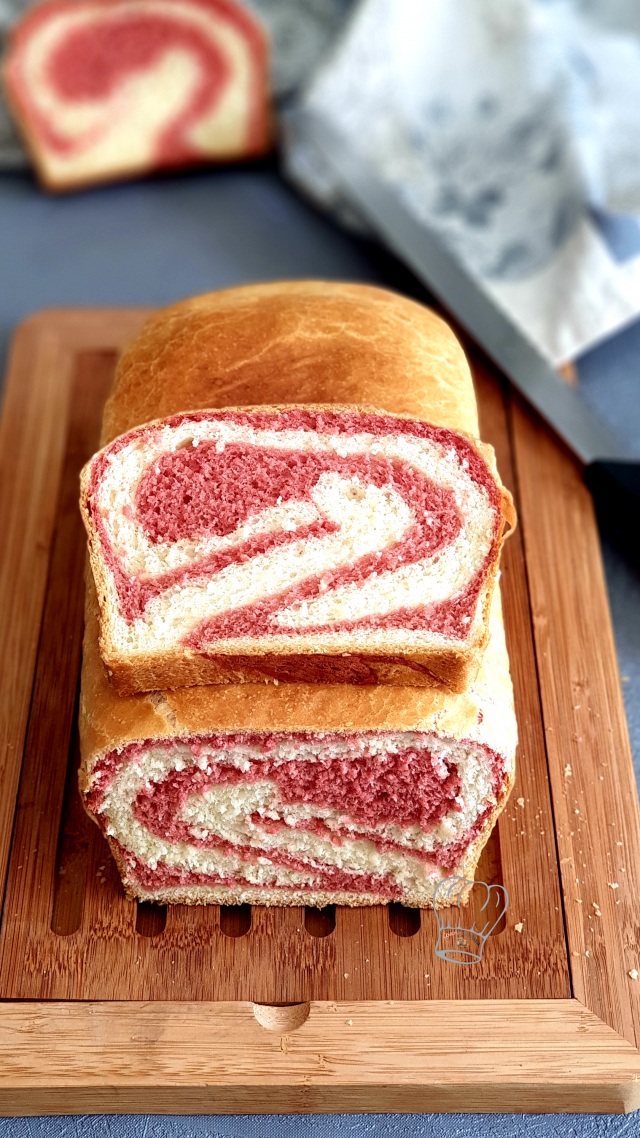 Ingredients for the beet paste:
250g T45 flour
10g of sugar
5g salt
10g milk powder
155 g warm beetroot coulis (mixture of beetroot and water)
10 g fresh baker's yeast
35g softened butter
Ingredients for the white dough:
250g T45 flour
10g of sugar
5g salt
10g milk powder
135g water
10 g fresh baker's yeast
35g softened butter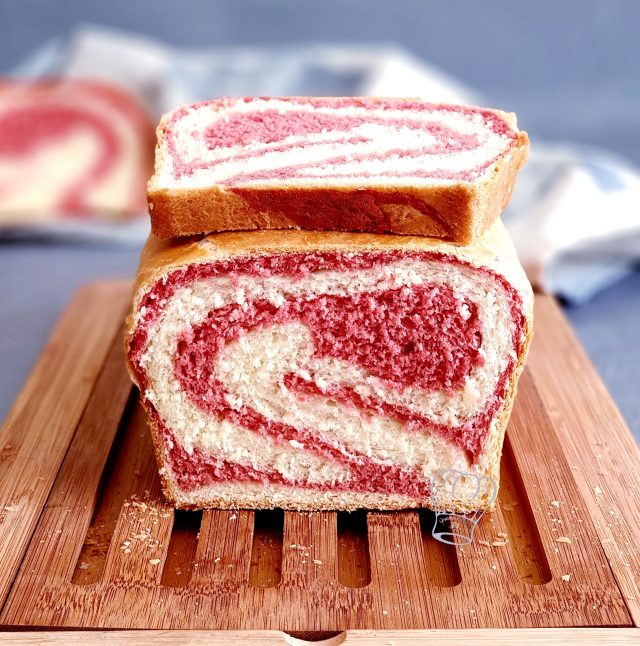 Preparation of the dough:
1- In a container put the flour, sugar, salt, milk powder and mix so that the salt does not come into contact with the yeast.
2- Add the crumbled yeast, then the coulis of beet and knead well for about 5 minutes. Add the butter and knead again until the dough absorbs the butter.

3- Proceed in the same way with the white paste. Cover both pasta separately and let rise for about 1 hour.
4- Break the two doughs, divide each dough into two equal balls. Lower them separately rectangles, eThen stack them and roll to have a pudding.

5- Place the roll of dough in a large greased cake tin and line with baking paper. Cover and let rise for about 30 to 40 minutes.

6- Brush with milk and bake at 200°C for about 35 to 40 minutes.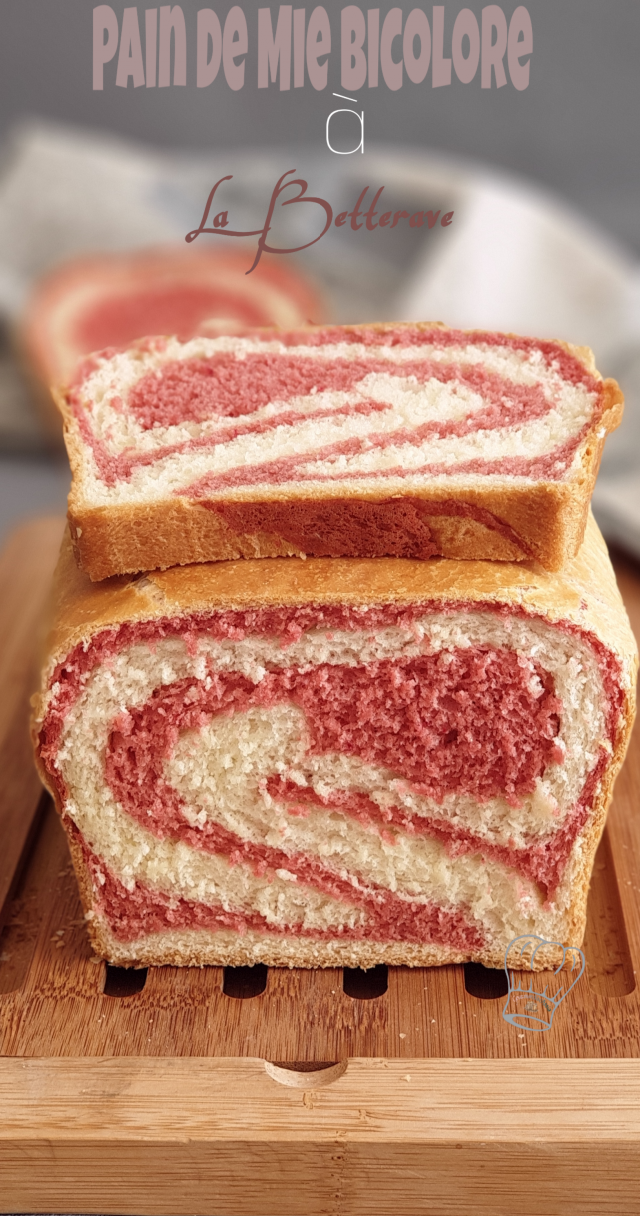 Beetroot sandwich bread marbled sandwich bread soft soft bread soft bread soft bread ramadan sandwich bread